Is Your Caloric Intake Supporting Your Summer Workout?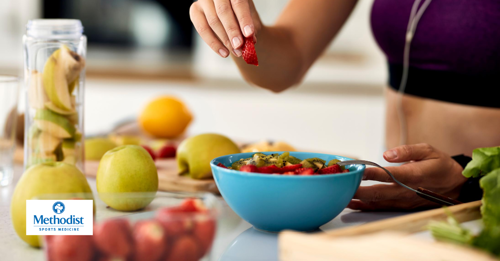 Caloric Intake Before Exercising
Whether you want to improve your athletic performance, build muscle strength, or maintain a healthy weight, it can be challenging to determine how many calories are enough to support your workout. No matter your fitness goals, calories are an essential energy source that your body needs — especially during workouts. Here's what you need to know about caloric intake when exercising.
What are Calories?
While calories are a unit of measurement, a popular misconception is that a calorie is a measurement of weight or length. A calorie is a measurement of the amount of energy in food and beverages. When we eat food, calories become the fuel that keeps our bodies functioning. When working out or playing a game, calories can be an essential component of performance. If you aren't eating enough of the right foods before substantial physical activity, you may be lacking the calories that your body needs to fuel your workouts.
The Warning Signs You May Not Be Getting Enough Calories
If you aren't eating enough before your workouts, you may experience the following:
Dizziness
Lightheadedness
Lethargy
Nausea
You may also notice that you aren't performing as well, and workouts may seem harder to get through than usual. Not getting enough fuel to sustain a workout can also increase the risk of an injury. If you want better results when training or working out, read on to learn the best types of foods to fuel your body for peak performance.
What Foods are Best Before a Workout?
Not all calories are created equal, so steer clear of any foods that offer no nutritional value. For example, packaged cakes, cookies, and sodas, as well as fast food, often contain too much sugar and saturated fats and are high in "empty calories." Before working out, the following delicious combinations can give you the energy you need:
Whole grain toast with peanut butter and banana slices. If you don't like peanut butter, almond butter is a delicious alternative.
Chicken breast or thighs with steamed vegetables.
Oatmeal and blueberries.
Scrambled eggs with vegetables and avocados.
After eating, wait at least 45 minutes before working out. If you are eating a heavier meal, it may be best to wait at least 2 hours before exercising.
Sports Medicine in Dallas and Fort Worth
Before creating a meal plan for your workouts, consult your sports medicine doctor to learn more about your specific caloric intake needs. If you are looking to increase your overall athletic ability and become a more skilled athlete, Methodist Sports Medicine can help. See our full list of services or contact us for an appointment today.